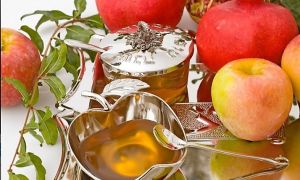 We

were
distinctly honoured last year to have
Cantor/Rabbi Brian Reich
lead us through our
High Holy Day Services 5778/2017
. Cantor Reich will again be leading our services for 2018/2019. Cantor Brian, aka the "Singing Rabbi", is an amazing person. He has everything it takes to make our celebrations meaningful, spiritual, musical and purposeful. His rich life experience, his great knowledge, remarkable skills and talents, and most of all, his warm personality and kindness will make him a delight to have among us.
If you are looking for a place to spend High Holy Days this year, we'd love to have you. Please secure your seats early!
Questions? Contact us at
contact@orhadash.org
TICKETS:  

$175.00 (Adults, 18 years and older)
$  80.00 (B'nai Mitzvah, age 13 to 17 years old)
Children under the age of 13 are admitted free of charge
The meal for the "Break-the-Fast" is included in the ticket price. In addition, if you decide to join the congregation shortly after the holidays have ended, we will apply the ticket costs toward your membership dues!
DOWNLOAD (PDF Document):
As every year, admission to the High Holy Day Services is included in our membership fee.

If you are not yet a member
of our congregation,
please consider becoming one. Or Hadash would like to offer this year the following very special membership arrangement:
Family:                $ 600.00 (2 adults and max. 2 children up to the age of 18)
Individual:           $ 300.00
B'nei Mitzvah:     $   80.00 (age 13 – 17, if not included in Family Mmbership)
We are also honouring the Union for Reform Judaism's suggestion, which recommends that those members (in good standing at Union congregations) who are in another community during the High Holy Days, be welcomed to worship at URJ member synagogues (where space allows). Therefore, if you are travelling during the High Holy Days and wish to attend our Services at Rosh Hashanah and/or Yom Kippur, please 
contact us
.
We are looking forward to celebrating with you spiritually meaningful High Holy Days!