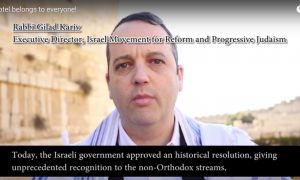 BREAKING NEWS:
There is tremendous reason to celebrate! On January 31st, 2015, the Israeli Cabinet has approved the creation of a new egalitarian plaza at the Western Wall in Jerusalem, allowing for non-orthodox, egalitarian worship and mixed-gender services. This is a historic day and a milestone for the Reform Movement and the Conservative Movement.
It is planned to open up this new section at the southwestern corner of the Temple Mount at the side of the Kotel which is known as "Robinson's Arch".
Watch the Video announcement of Rabbi Gilad Kariv, Executive Director Israel Movement for Reform and Progressive Judaism.
URJ commentary: Why the New Egalitarian Section Matters
Press releases: The Guardian The Washington Post The New York Times