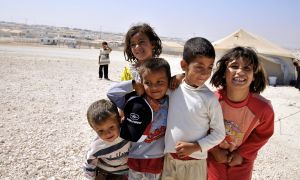 Canada's response to the Syrian refugees is evolving very rapidly. The new Liberal government has committed itself to bringing in 25,000 refugees over the next three months. Faith groups all over the country are organizing to meet this challenge and welcome our new citizens.
A coalition has been formed in our area known as the Interfaith Refugee Resettlers (IRR). It has three members – Aurora United Church, Trinity Anglican Church, and the Newmarket Islamic Centre. They are working with a fourth organization, AURA Anglican Refugee Alliance, to bring Syrian refugee families to Newmarket and Aurora.
Canada's success at integrating these people will depend in part on having the necessary resources to support them as they get used to their new home. As Jews, we have a special responsibility to welcome and care for those fleeing war and oppression.

Or Hadash encourages all members and friends to support the work of IRR through a financial donation.
Cheques may be sent to Trinity Anglican Church, 79 Victoria Street, Aurora, Ontario, L4G 1R3. If you are able to contribute with a donation, your cheque should be made out to "Trinity Anglican Church" with the remark "Refugee Fund" noted on the cheque. Trinity Anglican Church will provide you with a tax receipt.
Similar efforts are made worldwide. Please also read this letter signed by over 1,200 American Rabbis, encouraging the United States Congress to support the resettlement of Syrian Refugees in the US.