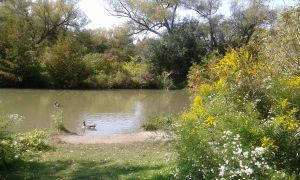 Following the morning service on the first day of Rosh HaShanah, (Thursday, September 21st), we will hold our traditional Tashlich Service, a ceremony during which we ask God to "cast away our sins in the depth of the sea" (Micah 7:19). By tossing breadcrumbs and seeds into a body of flowing water, we will symbolically cast away our sins or wrongdoings from the past year.
This picture shows the idyllic place at Fairy Lake where we will be holding Tashlich this year. (Exact location and additional directions will be communicated at the conclusion of our morning service).
Cantor/Rabbi Brian Reich will lead us in song and prayer during this short ceremony.
Doing Tashlich with children is a wonderful teaching opportunity. The weather forecast for this coming Thursday is excellent and we are looking forward to enjoying together some meaningful time outside.
As many of you have also been asking about a more detailed time table regarding the Yom Kippur afternoon services, please find below the updated schedule of events. If you have not yet purchased your HHD ticket and would still like to do so, please get in touch with us immediately (contact@orhadash.org).
L'Shanah tova and may you all be inscribed in the Book of Life!
SCHEDULE OF HIGH HOLY DAY SERVICES:
ROSH HASHANAH

YOM KIPPUR

Thursday, September 21, 2017 (1st Day)

Friday, September 29, 2017

Morning Service

10:00 a.m.

Kol Nidre

6:30 p.m.

TASHLICH

starts between
1:00 p.m. and 2:00 p.m.

Friday, September 22, 2017 (2nd Day)

Saturday, September 30, 2017

Morning Service

10:00 a.m.

Morning Service

10:00 a.m.

Shema Koleinu (Healing Service)

4:30 p.m.

Afternoon Service

5:00 p.m.

Yizkor

6:00 p.m.

Neilah

6:30 p.m.

Havdalah

7:30 p.m.

The Break-the-Fast meal (included in your ticket) will be provided by Or Hadash at the conclusion of Havdalah.