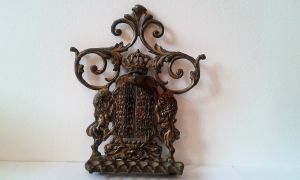 This is your chance to own a real piece of history! In the framework of our Hanukkah Fundraiser, we are auctioning off some of the synagogue's old vintage Hanukkah Menorahs (Hanukkiot). This is how it works:
• Check the attached list (originals can be viewed at our synagogue)
• Each Hanukkah Menorah has been given a specific number, a short description and an estimated value. If you are interested in purchasing one or several of the items listed, participate in our E-Mail Auction
• Send an e-mail to contact@orhadash.org and indicate the number of the Hanukkiah you are bidding on and the amount you are willing to pay for it
• Your bid must be at least as high as the minimum starting bid (listed in red) for the corresponding item
• The Auction will be open as of November 7 and will close on Sunday, November 26, 2017, 6:00 p.m. EST
• Whoever has placed the highest bid by the end of the auction will win the item
• If two or more bidders have offered the same amount by the end of the auction, they will be informed and given a chance to increase their bid
• If you don't want to take the risk of being outbid, you can offer the "Buy-It-Now" price (listed in green) and grab your favourite Hanukkah Menorah right away (Please note, some people have already taken advantage of our great "Buy-It-Now" prices: Hanukkia #3, #7, #9 and #10 are SOLD!)
There is something available for each budget. Thanks for supporting Or Hadash Synagogue's Fundraiser and happy bidding!